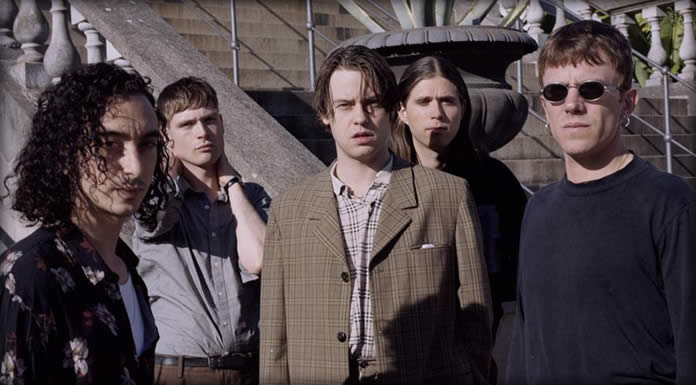 Hoy, Iceage lanza Shake The Feeling: Outtakes & Rarities 2015-2021, su nuevo álbum recopilatorio aclamado por la crítica. En Mexican Summer, el álbum aterriza junto con la noticia de una gira completa por el Reino Unido que tendrá lugar en marzo/abril de 2023.
Shake The Feeling: Outtakes & Rarities 2015-2021 es una colección de cortes que no son LP (o "niños inadaptados", como los describe el cantante Elias Bender Rønnenfelt) de los siete años durante los cuales Iceage hizo Ploughing Into the Field of Love (2014) , Beyondless (2018) y Seek Shelter (2021). Un estudio sobre la poderosa forma de la canción y la ejecución cruda que ha definido a la banda de rock and roll danesa, este lanzamiento profundiza en la bóveda de Iceage en busca de pistas raras e inéditas que disfrutarán tanto los devotos como los no iniciados.
Iceage – Shake The Feeling: Outtakes & Rarities 2015-2021 (Álbum Completo)
Para celebrar el lanzamiento del nuevo disco, Iceage ha compartido una versión de "I'll Keep It With Mine" de Nico. Escrita y grabada en 2015, Rønnenfelt explica que "esta es la primera grabación de "Shake The Feeling". Recientemente visité la tumba de Nico en el bosque a las afueras de Berlín y esto sirve como nuestra oda a ella. Nos encantó el resultado en ese entonces, pero no sabíamos muy bien dónde ponerlo".
Al igual que con todos los álbumes de Iceage, ya sea el atrevimiento sensual de su debut de dark-hardcore You're Nothing, el cambio al romanticismo gótico cowpunk en Ploughing Into the Field of Love, o el gospel-rock espacial de su los álbumes más recientes, Rønnenfelt, Johan Suurballe Wieth, Jakob Tvilling Pless y Dan Kjær Nielsen hacen que lo imposible parezca fácil. Fieles a los desconcertantes instintos de Iceage, las canciones de Shake The Feeling se presentan en el orden que les parezca más sensato. El álbum avanza y retrocede en el tiempo, con pistas escritas en los cuatro años entre Ploughing Into The Field of Love y Seek Shelter que chocan con versiones de dos canciones de la década de 1960 ("I'll Keep It With Mine" de Bob Dylan y Abner "Mi mula" de Jay).
En cuanto a si Shake The Feeling tiene un tema dominante, Elias dice: "realmente no, y de alguna manera sí". "No, pero también sí" es una encapsulación tan perfecta de un espíritu de Iceage como nunca podría haber. Más que cualquier otra banda de Europa que trabaja dentro de las tradiciones del rock 'n' roll estadounidense, Iceage mantiene su adopción inicial de la negatividad del punk y el hardcore que afirma la vida del no pero sí. Tal vez Elias considera que Shake The Feeling es más un documento de Iceage en diferentes puntos de la vida joven de los miembros que una "obra de arte". Tal vez el hecho de que las canciones "parecen que pueden llevarse bien" es suficiente. Por el contrario, tal vez las canciones de Shake the Feeling funcionen juntas tan bien como cualquier banda de extraños, acurrucándose solos en la oscuridad del mundo. Tal vez ninguna de estas huellas encajaba exactamente con la alcantarilla o las estrellas, pero al igual que Iceage, chapotean en el fango iluminado por la luna como si se consideraran salvajes y vivos, y no pueden evitar la sensación de que eres afortunado y extraño solo por estar en cualquier lugar.
Escucha / Ordena Shake The Feeling: Outtakes & Rarities 2015-2021 aquí.
Shake The Feeling: Outtakes & Rarities 2015-2021 Tracklist
1. All The Junk On The Outskirts
2. Shake The Feeling
3. Sociopath Boogie
4. My Mule
5. I'll Keep It With Mine
6. Balm of Gilead
7. Broken Hours
8. I'm Ready To Make A Baby
9. Namouche
10. Order Meets Demand
11. Lockdown Blues
12. Shelter Song (Acoustic)
Iceage Fechas de la Gira
Compra boletos aquí.
23 Sep 2022 – Washington, DC @ Black Cat *
24 Sep 2022 – Pittsburgh, PA @ Spirit Hall *
25 Sep 2022 – Columbus, OH @ Skully's Music Diner *
26 Sep 2022 – Detroit, MI @ El Club *
28 Sep 2022- Chicago, IL @ Empty Bottle *
29 Sep 2022 – Minneapolis, MN @ Fine Line *
30 Sep 2022 – Omaha, NE @ Slowdown *
1 Oct 2022 – Kansas City, MO @ Record Bar *
3 Oct 2022 – Denver, CO @ Marquis Theatre *
4 Oct 2022 – Boulder, CO @ Fox Theatre *
5 Oct 2022 – Albuquerque, NM @ Launchpad *
6 Oct 2022- Tucson, AZ @ Club Congress *
7 Oct 2022 – Mesa, AZ @ The Underground *
8 Oct 2022 – Santa Ana, CA @ Constellation Room ^
9 Oct 2022 – Los Angeles, CA @ The Regent Theater *
10 Oct 2022- Santa Cruz, CA @ The Catalyst Atrium *
11 Oct 2022 – San Francisco, CA @ Great American Music Hall *
13 Oct 2022 – Portland, OR @ Aladdin Theater *
14 Oct 2022 – Tacoma, WA @ Alma Mater *
15 Oct 2022 – Seattle, WA @ Substation *
1 Dic 2021 – Copenhagen, Amager Bio – Denmark
24 Mar 2023 – Bristol, Thekla – United Kingdom
25 Mar 2023 – Brighton, Patterns – United Kingdom
26 Mar 2023 – Nottingham, Bodega Social Club – United Kingdom
27 Mar 2023 – Newcastle, The Cluny – United Kingdom
29 Mar 2023 – Manchester, Yes – Pink Room – United Kingdom
30 Mar 2023 – Leeds, Belgrave Music Hall – United Kingdom
31 Mar 2023 – Birmingham, Hare & Hounds – United Kingdom
1 Abr 2023 – London, Oval Space – United Kingdom
* = co-encabezando con Earth
^ = con Object of Affection & Smirk